Cock-A-Doodle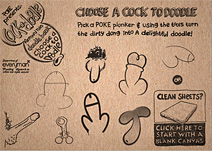 Poke [UK] has just launched this fun site that lets you create a custom doodle. The art direction on this is fantastic and I love the re drawn doodles (although some look a little scary).
The promotion is helping to raise money for research into Male cancer.
Check out Cock-A-Doodle.
You can donate your hard earned cash here.
Let's hope they do another one for cervical cancer :)