Google's New phone: Nexus One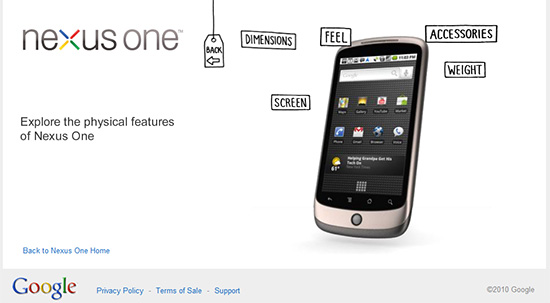 Google have unveiled their new iPhone killer the Nexus One. I like the demo site and they also have a special Nexus One Youtube Channel too.
The big draw card for the iPhone is the app store. With so many great apps Google will have to fight hard to compete for the casual user who just wants a $800 toy/mobile games station rather than a useful phone.
Sure their is the Android Market but that's tiny compared to Apple's 100,000 apps and growing.
Some stand out features for me are the SD expandable memory (up to 32GB), 1Ghz CPU, 5MP camera and OLED screen. However the bad news is the OLED screen and faster CPU drains the battery faster making battery life lower than the iPhones poor battery life. For a good comparison check Pocket Gamer.
So the choice isn't so clear. I'd be temped to get a Nexus One just to be different.
No firm plans from Google on when the Nexus One will make it to Australia (source) and no confirmation if the phone will even work with an Australian SIM so I'd hold off before shopping on eBay and dropping $900.
So 2010 will be the real smart phone year as now people have a real alternative to the iPhone. And with a lower price it's sure to gobble up market share. BBC have some good coverage of the press release here.
Another Google Phone
The Nexus One shadowed the release of Google's Other phone the "Fuck You iPhone" which has an interesting set of features.