Time Bomb Interactive Graffiti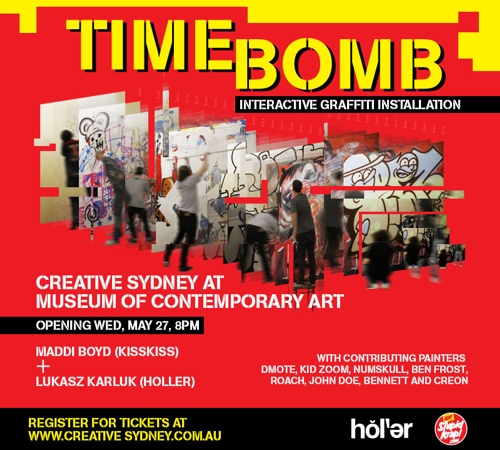 Holler and Stupidkrap have teamed up to create an Interactive Graffiti installation which is part of Creative Sydney. Check out the other events going on for Creative Sydney too as there is lots of good stuff.
It's a collaboration with an urban artist collective around Ben Frost, Numskull, DMOTE and KidZoom. Interactive in the sense that visitors use a camera to go back in time and see the beginning of the painting.
Rather than try and explain it just watch the videos below.
Time Bomb - Interactive Graffiti (StupidKrap & Holler) from Mike Hill on Vimeo.
Here's what the debug code looks like so you can see the actual mask
timebomb debug from lukasz on Vimeo.
When this was verbally explained to me I expected to see the different layers in a row like Apple's Time Capsule but this is more interesting.