CEO Sleepout 2010 for Charity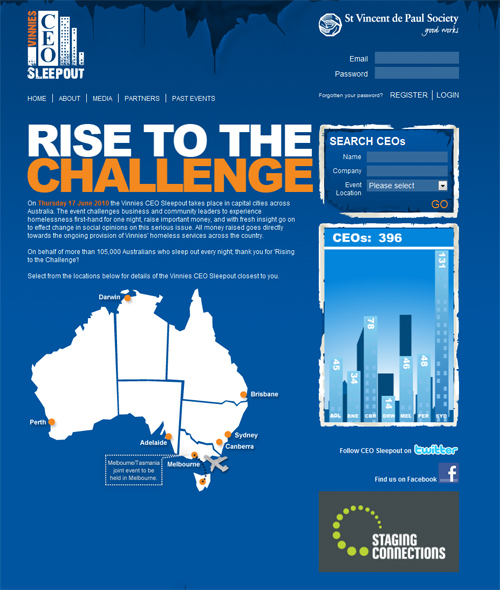 There are so many different charities asking for your money and it's hard to find a unique angle for fund raising. I found this CEO Sleepout idea by St Vinnies a refreshing new look at how to raise money. And they have don't well with over $555,000 raised. This is the second year
The site explains the concept as;
"On Thursday 17 June 2010 the Vinnies CEO Sleepout takes place in capital cities across Australia. The event challenges business and community leaders to experience homelessness first-hand for one night, raise important money, and with fresh insight go on to effect change in social opinions on this serious issue. All money raised goes directly towards the ongoing provision of Vinnies' homeless services across the country.

On behalf of more than 105,000 Australians who sleep out every night; thank you for 'Rising to the Challenge'!"
This has been running since 2006 (with 4 people) but is now really picking up steam with over 200 CEOs joining last year and 396 so far in 2010.
On a side note: I heard of services where business men in Japan pay good money for this experience to "rough it" but my Google skills could not being this up. It could be an urban myth?