V21 Digital Summit - AIMIA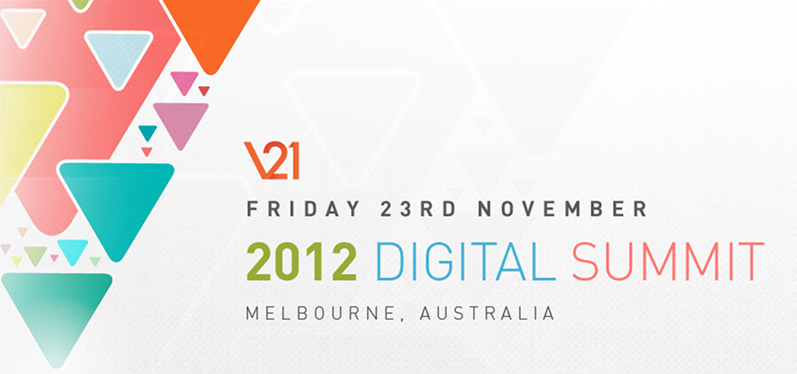 V21 is the leading annual conference in Victoria, Australia for bringing together digital media businesses and practitioners to help develop and better understand creative and commercial opportunities that digital media can bring to business.
The V21: 2012 Digital Summit focuses on creative and commercial success in the digital age. A roster of high calibre speakers has been assembled, including two-time Emmy Award winner Seth Shapiro, co-found Stuart Eccles of Made by Many as well as Darren Woolley of Trinity P3, Jason Davey of Bullseye and Hamish MacKenzie of ANZ. Each speaker represents a cross section of native digital media businesses; companies who are leading their industry in product and service provision, or going through a major transition. Speakers are presenting case studies across several industries including media, entertainment, publishing and retail.
Tim O'Neill, Joint Managing Director of Reactive commented "The AIMIA V21 Conference is a great opportunity to hear (and share) the latest trends, insights and best practice examples, and is a regular event on the Reactive calendar. It's for agency decision makers, account directors and anyone in a business who is serious about growing their reach and response in the digital world."
The V21 Digital Summit starts Friday 23rd of November 2012.
For more information about V21 visit http://www.v21.com.au