SEGA launches Sonic The Hedgehog Augmented Reality iPhone App in Australia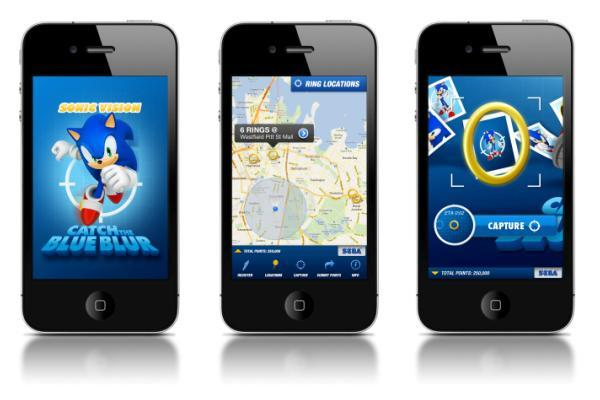 To celebrate the 20th anniversary of Sonic the Hedgehog, JWT Sydney and SEGA have launched a multi-platform campaign based around an augmented reality app that can be used in conjunction with out-of-home, TV, magazines, online banners and websites. The campaign has launched exclusively in Australia and the Sonic Vision app is only available in the Australian iTunes store.
The 'Sonic Vision - Catch the Blue Blur' iPhone app (www.sonicthehedgehog.com/getapp) allows fans to capture Sonic in the real world by locating augmented reality markers around the country using built-in maps and GPS.
To catch Sonic, players can point their iPhone at a poster and a gold ring appears on screen. Sonic speeds past onscreen and players have to respond quickly to capture him. The markers also appear on websites, banners, in magazines and on TV.
SEGA is also distributing Augmented Reality Markers to bloggers and gaming websites encouraging them to be part of the campaign by voluntarily embedding the markers (example below) within their pages to attract Sonic Vision players.
Capture Sonic Here - A Sonic Vision AR marker for blog owners
Fans can also submit their points to a leaderboard and follow the progress of other players, win Sonic prizes and share their scores on Facebook.
"JWT has recognised the rising prominence of mobile amongst gamers and created an experience that is a fitting celebration of a gaming icon like Sonic the Hedgehog," said SEGA marketing manager Neroli Baird.
The campaign also coincides with the much anticipated release of Sonic Generations for Nintendo DS, PS3, Xbox 360 & PC. Sonic Generations delivers the definitive gaming experience for Sonic fans new and old and is considered the ultimate celebration of 20 Years of Sonic gaming,