XPlanet is here!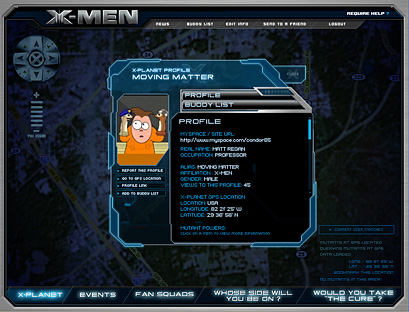 Soap Creative have just launched X Planet, a Google Maps powered X-Men community site to promote the film release of X-Men: The Last Stand.
The key element is the integration of Google Maps within X Planet's interface, enabling users to move around the world and into any location within it - right down to street level. Users are able to develop mutant profiles and "pin" themselves to any location, which can be found by other site visitors. They're also able to include a link to their personal website or blog within their profile, and add other users to a planet-wide "buddy list".
The "Mutant of the Day" feature, direct linking to profiles and a MySpace/Blog badge creation tool ensure that the site generates that sought after "community" aspect.
X Planet steers away from traditional online campaigns that are competitive in nature, such as entering first, collecting puzzles and solving problems to win. Instead it encourages the audience to actively share, rather than compete with other users to create interactivity with each other and the movie.
Beyond the networking features, content from the first two X Men movies, and behind-the-scenes material from the latest one, will be planted around X Planet following launch, further encouraging people to explore and discover.
Personally (as someone who worked on it's initial conception) I'm pretty happy with the end result with only a few tweaks form the initial concept. It's also great to see our idea embraced by Fox in the US rather then being reduced to a small local initative.