LynxJet Planet & Branded Pop
It started with Starburst back in 2002 who had a hit song (top 50 in the ARIA charts) with Get Your Juicies Going.
Now we have LynxJet and the Dizzy Bananas and their song "Spin Spin Spin". This is the extension to the very successful LynxJet campaign. View the clip below.
I can't say I'm feeling the love on this clip. But I've been suprised when stuff I thought was crap goes nuts so I'll be interested in seeing how this clip goes "virally".
A better example on branded music would be Tea Partay from Smirnoff. I haven't read any press releases about how many countries it's been viewed by but Youtube seem to show 1.6M+ views on this video. And now annoying Vividas popups in sight!
You can view the Tea Partay campaign site here.
The Dizzy Bananas aside the Lynxjet Planet campaign site that really confuses and annoys me.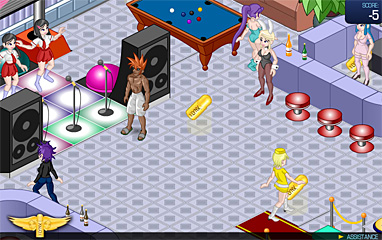 A lot of money was spent here but all in the wrong places. I'd love to deconstruct where it fails but it's obvious. It stinks of wasted opportunity and for that it annoys me.
Yes guys like girls and playing games but the two combined aren't always a winner. Especially when it feels as labored as this is.
We also like sport and seeing stuff explode. See below.
This is said to be a 100% online campaign so "hoo rahh" to Unilever for putting the money into online and "boo hiss" to Lowe Hunt for pissing it up the wall.
In contrast the interactive work done for Lynx/Axe worldwide (Game Killers, Feather, Alphabet Girls and my fav Ravenstoke) is of the highest quality and it's a shame that Australia has let down the team. The only solution I can see if for Unilever to give me complete access to the Lynxjet girls and the budget they spend on LynxJet Planet.