We are the Winners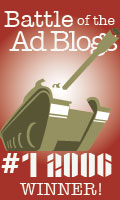 We won our category for Best Interactive blog in the Ad-rag Battle of the Ad blogs. Thanks to all that voted.
As with all advertising competitions cheating was rife. Luckily we had enough friends to see us though and didn't have to run around all the internet cafes. The graphs below show the before and after multiple votes were removed.
Best Online/Interactive Blogs


after:

Looks like Netzkobold voted for himself 61 times! Very subtle. But everyone else in our category played a fair game.
See the full comp results here.