Black: Selling the Video Game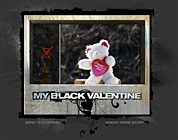 The big game release of this month has been Black from EA. There has been quite a bit of activity online ranging from the well produced official site (i like how each section uses a different weapon and you can literally shoot the shit out of the site, a valentines viral site My Black Valentines (quite funny) and locally here in Aus a training simulator.
It's good to see game advertising going beyond the usual mini site and downloadable demos.