Take Note from Staedtler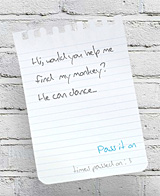 Staedtler wants more people to write smail mail letters, so much so they are going to send 10,000 physical letters to users who submit their details on the Take Note site. You can even sign up to receive a letter from a stranger. The last hand written letter I received was in 1999 so I'm interesting to see if this promotion sparks a hand written revolution. My only complaint is that letters will only be sent within Australia which is a shame.
The site will also be promoted with print ads and handwritten notes placed in public places throughout Melbourne and Sydney. See images here
This is the first site created by Host's new in-house interactive team headed up by ex Tequila CD Bob Makintosh. Nice work Bob.
Also I don't envy the poor bastard who has to handwrite all the letters, with that in mind you don't want to sign up for work experience at Host anytime soon :)