Asia Interactive Awards
Entries close July 10! So get in quick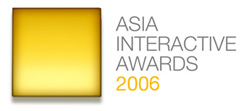 Sadly no diatribe from me about the ills of using the word viral just a notice that the Asia Interactive Awards are open for entry.
Entries close July 5th so theres still time to enter.
Note: I am part of the jury which sadly only has one female. Which is one more than there was at D&AD for interactive.