Asia Interactive Awards Winners List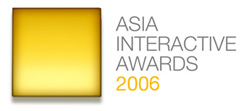 The Asia Interactive winners have been announced. Click here to view the full winners list.
There were a total of 600 entries and 47 winners. My gripe is that these awards need to link up all the entries so people can view the winning work. It's no use just showing the agency name and not giving any indication what piece of work won. Hopefully this will be fixed up soon. I understand some were behind password protected areas but the majority were just public facing URL's.
Only one winner from Australia with that being Clemenger Blue winning gold for Best Copywriting for their Mars/Snickers microsite.
Honestly the design lets the site down quite a bit.