BRAND.TV

Rather than jump on the Youtube train, Turner has created their own video portal concentrating on funny video content called Super Deluxe. What makes this standout is the quality of the content and the fact it's exclusive on the site. A notable contributor is FarkTV which is the video versin of the popular site Fark.com.
Sure they have all the other "community" boxes ticked but it's the content that makes the site what it is. Check it out it's worth a look.
Here's my fav video series for the moment, Professor Brothers.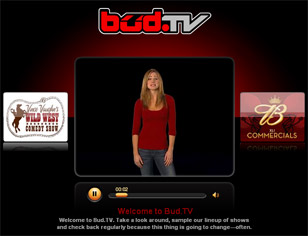 Another newcomer to the internet channel trend is Bud.TV. The content ranges from new and old Bud TVC's, exclusive promo-sodes (their word not mine) of TV shows and short comedy videos. It's not as polished at as thought out as Super Deluxe but it's early days and it looks like they are expanding their offering soon.

The next offering is the Spike Jonze directed Vice TV or VBS.TV I don't think I need to say more than Spike Jonze. The guy's a freaking genius so let's see how this goes as Vice already has the street cred behind it.
Add these channels to MTV Overdrive and Youtube and you never have to watch real TV again.