Jeep's Online Games
Jeep has been busy with 3 big online promotions launching recently.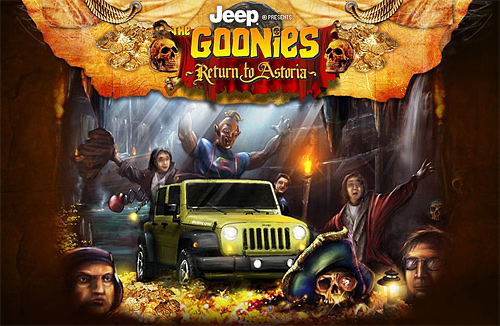 First we have Goonies: Return to Astoria produced by Fuel Industries. The game looks great, there are 4 levels and a fitting 80's soundtrack.
I guess all the kids that liked the movie will now be old enough to buy a Jeep.
This leaves just Tron, The Breakfast Club, Revenge of the Nerds and Ferris Bueller's Day Off as cult films of the 80's that haven't been turned into a marketing campaign. (Let me know if I'm wrong here).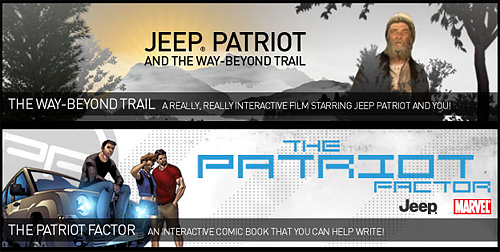 Next up we have The Way-Beyond Trail for the Jeep Patriot. A choose your own adventure style game. The production is good and the adventure fun and with 45 scenes it's large enough to have reply value.
I also like the data entry at the beginning and that choices there affect the content of the videos.. Look out for some nice little Easter eggs if you linger on some screens for too long.
Lastly we have The Patriot Factor. No, not a game show where they test your level of love for your country but a Jeep and Marvel online comic where the users suggest the story. A nice feature for comic book buffs is being able to see the pencil and ink artwork as well as the final colour rendering.
I'd love to see a case study at the end of the promotions to see what was successful. I preferred the Way Beyond Trail myself even if it was a little cheesy in places, the humor was actually funny in places which is rare for this type of content.
Jeep have certainly gone all out and while not as focused as say Mini's online endeavors, they are definetly picking their game up. (No pun intended)