Nokia: The Internet Walk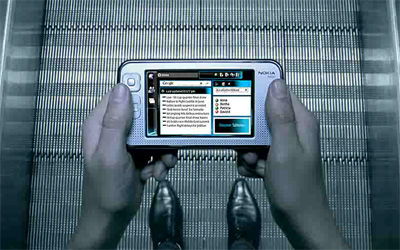 I really like this site for the new Nokia N800 called The Internet Walk. The execution is flawless and it works well to sell the features of the handset. It has one strong idea and works it well. No need to complicate it too much just explore the idea to its fullest.
Farfar did the site and have done lots of nice work in the past.
Oh and I love the loud voice at the start "LOADING THE INTERNET"
It'd be great if this kind of narration occured all the time.
"LOADING MIDGET PORN!!!"
"NOW PLAYING KYLIE MEGA MIX!!!"
"NO NEW FRIEND REQUESTS!!!"
Oh and there was also a "viral video" to go with the campaign. (i prefer my viral with people getting kicked in the nuts.)