Who is MC?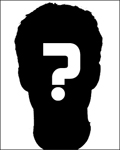 There has been one commenter who has been a negative force on Bannerblog for quite a while. His/her alias is MC. With no more than 32 comments each negative and harsh with a rare dash of actual constructive criticism.
Click here to read the full article and find the identity of MC.
Our Research
Here's a screen grab of what our admin system shows when we track by commenter name.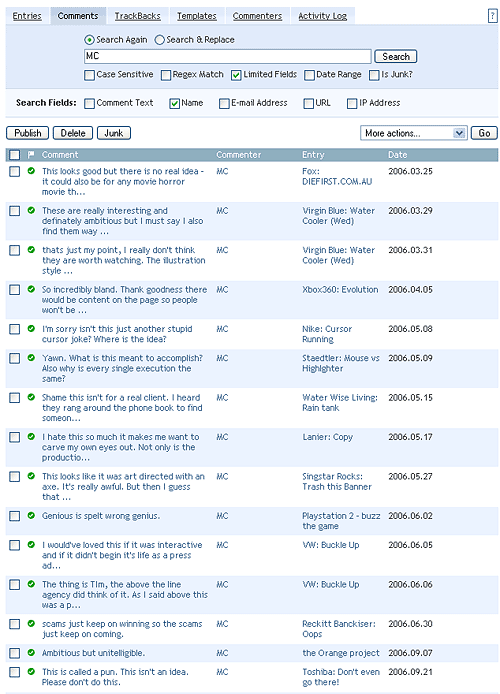 Here's a small sample of the comments:
I'm sorry isn't this just another stupid cursor joke? Where is the idea? Link
Yawn. What is this meant to accomplish? Also why is every single execution the same? Link
All that and no room for an idea. Link
Sorry, these are terrible. And what is even worse is that the UK campaign was so good and it was handed over on a silver platter. Link
huh? this is terrible. what works visually well about it? Link
Considering that they've just animated W+Ks press ad, this is impossibly lame. Link
This looks like it was art directed with an axe. It's really awful. But then I guess that does make me want to smash it up. Link
the production quality of this banner is the perfect compliment to the absolutely horrendous tv ad in this campaign. lame. Link

MC's comments were so cutitng it was even a topic for discussion at the first Creative Social in Sydney. I had originally accused Matt Cumming from M&C Saatchi of being MC, which he denied and complained about MC posting a negative comment about one of their banners (link). With Matt being a good friend (he hired me right out of uni for my first job) I believed him.
Detective Work
So in an effort to track down who MC is and put a stop to it I present to you below (in the spirit of CSI) as little bit of detective work.
We traced the commenter's IP which luckily was the same for most of the comment. I'm guessing MC doesn't realize each comment is posted with an IP address. You can trace an IP with a tool like this Visual IP Trace.
The IP used for 29 comments was 203.62.133.34. Tracing this on any regular IP tracing application sends you to Saatchi & Saatchi's office in Sydney. Mmmm who do we know from S&S that would be interested in banners? We had our suspicions.
What's more interesting is if you cross reference the IP address in the Admin system it shows you all the other names this person has posted as.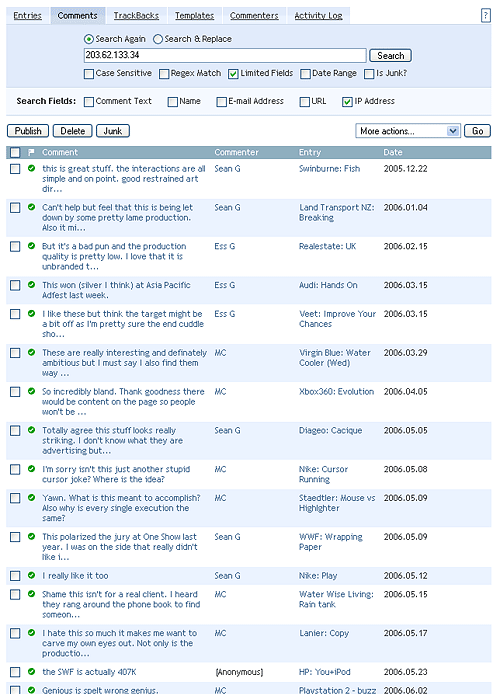 What came up was interesting is the names Sean G, Ess G, Franks, Aaron, [Anonymous] and of course MC.
Wow that's pretty incriminating for Sean Ganann the former digital CD of Saatchi& Saatchi Sydney. But what if it's a coincidence. As all the comments by Sean G, and Ess G are all positive and in a good spirit. Maybe S&S all share the same IP and Sean is innocent.
Here's a few of Sean G's positive comments:
(Yes the positive comments are outweighed by the negative ones)
this is great stuff. the interactions are all simple and on point. good restrained art direction as well. Link
Totally agree this stuff looks really striking. I don't know what they are advertising but I think I like it. Link
I really like it too Link

So maybe we've got it wrong and there's no way I'm outing someone without knowing 100% it is them.
Case Closed:
The penny dropped last week when MC posted again after a months hiatus but this time with the IP 64.94.163.210.
This IP traced out to the address NY. 536 Broadway NY with the owner being Anomaly Communications, LLC.
Sean recently move to the US for a new role at Anomaly.
So unless Sean has a stalker who's followed him to NY it's safe to say that Sean is MC. Case closed.
It's usually this point that the Perry Mason theme starts and the criminal goes to jail. But as Sean's just guilty of being a mean spirited commenter you can't really do anything about it.
What makes this funnier is that Sean Ganann's previous ECD, David Nobay, made major news here when he wrote a letter to a popular magazine/blog Campaign Brief saying that Anonymous posts are ruining the industry.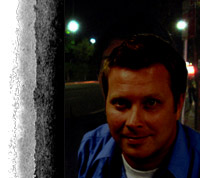 Oh Sean, if only you had of used an internet cafe or a IP spoofing tool. If only you had of gotten bored and left it alone.
I'm lucky it's Sean Ganann and not Sean Gannon the UFC fighter. And that dude would seriously kick my ass.
Last Chance:
Note: I emailed Sean yesterday to ask him outright if he was MC and give him a chance to explain himself. I thought I'd give Sean a way out of me posting this so I sent this quick email:
"Yo,
I've checked a few things in Bannerblogs admin and found pretty damning evidence that you have been posting as MC. Not sure if this is correct but seems a bit silly to be so negative, especially to the Aussie banners."
And this is was Sean's reply:
"I'm not totally sure what to say man but I can safely assure you that between porn, facebook and twittering my every movement, I've got better stuff to waste my time on."
Note: You might ask why didn't we just 'junk' MC's negative comments? In the spirit of being unbiased I approve all comments that aren't spam. If we start censoring them we wont know where to draw the line.
A Message To The Haters:
Note 2: I'm not entirely sure this is the right way to do this but there's not much else I can do. The industry doesn't need negative people like this ruining it for everyone. Or to quote The D "You're fucking it up for the people out in the streets"
I've had agencies tell me they don't submit to our site because of "the haters".
Let it be known that MC isn't the only hater out there. I hope this sends a message to Grumpyface and the recent Anonymous posters that I know your IP and I know what agency you are from :)
So if you want to be negative that's fine just don't make that your exclusive demeanor.