Google Trends
I sat in on a presentation by Google Australia last week (I love the fact they have the Google URL on their business cards, like anyone would forget) and they showed a tool that's been out for a while called Google Trends. Being a stat junkie I couldn't wait to give it a go. They used the idea that by using Google trends, an analysis is able to predict the box office opening of studio films.
So here is a few things I wasted my time looking up. Some are pretty predictable but others are surprising. The only drawback is if the term you are searching for is quite generic ie Kiss there's no way to see if that's for the band or people actually kissing.
Below is a small snapshot of the data available to you for free. It's quite interesting and addictive too comparing search trends. It's like an instant survey of whats more popular.
Read the full entry
for the sexy graphs.

Social Networks
Myspace is showing flatness, while Youtube charges on. Facebook while small, is catching up to Myspace. Bebo is flat.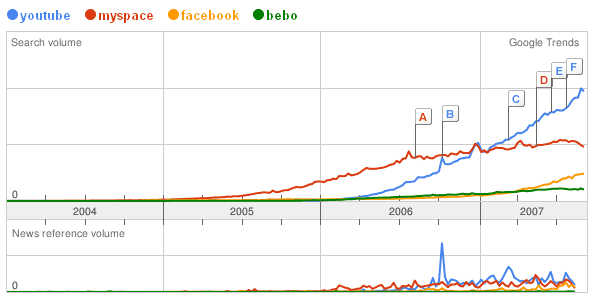 Coke vs Pepsi
I added in Coca-Cola as coke is again a generic term.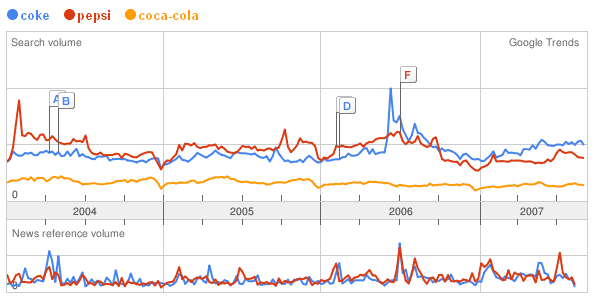 Pepsi was winning there for a while but Coke is back. If you drill down to certain languages you get a better picture of how it breaks down.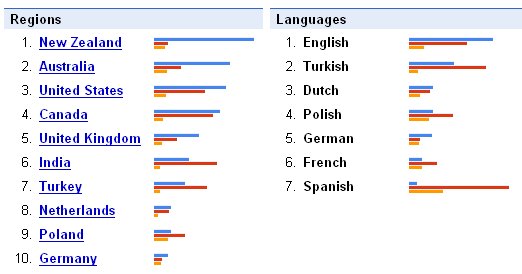 People who speak spanish love Pepsi! And while the US and Canada are almost equal, in NZ and Australia Pepsi has a long way to go.

Shoe Brands
No surprises here. Although I i had no idea Reebok was doing so badly.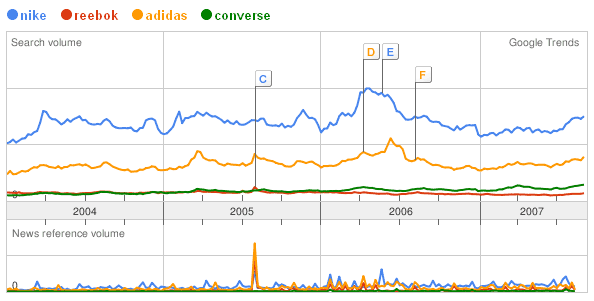 Fast Food
Subway wins? This could be the generic term helping it along.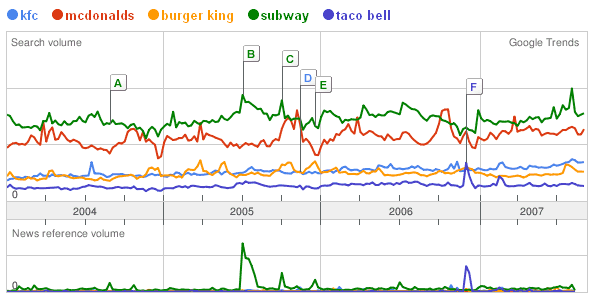 If you break down fast food by language you see that KFC dominates the asian countries. The thais love their secret herbs and spices.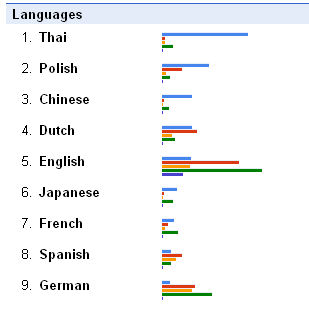 Computer Brands
Dell seems to dominate the news but this doesn't translate to search traffic, HP is doing pretty well and is now the number one searched computer brand with Apple making a late charge.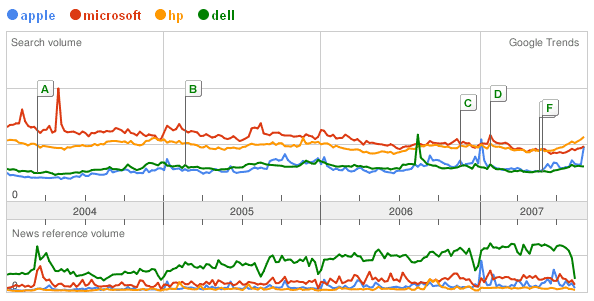 Fear
What does the general public fear these days. I'm glad to see Global warming seems a bigger threat to people than terrorism ever was. Considering the amount of news on terrorism too this is great. I threw in the Apocalypse as you never know!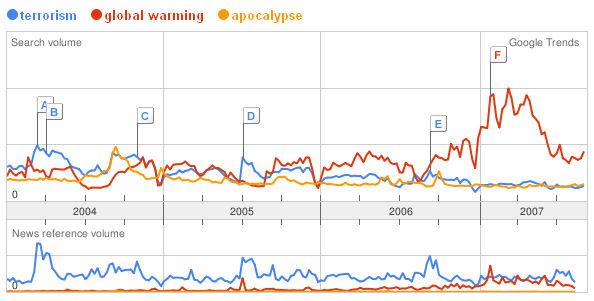 Sadly the info isn't getting to the right people as interest in the hummer is still high.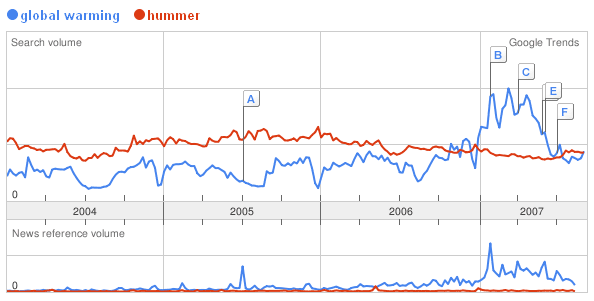 Kids Franchises
This surprised me as I thought The Simpsons would have been a lot higher. Pokemon even without a movie release is still popular the world over.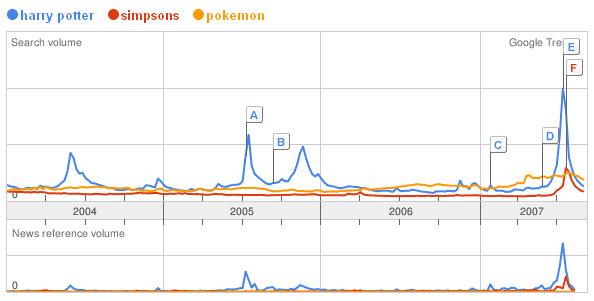 This backs up the theory that search traffic equates to box office revenue. Harry Potter pulled in 288M in the Box office for 2007 while The Simpsons movie got a respectable 180M. Source

Superheroes
Spiderman rules the interweb Although for a while Chuck Norris had them all under his power for a brief period again. Maybe Peter Parker should a beard in Spiderman 4?

No need to check the box office records on this. Spidey killed them all.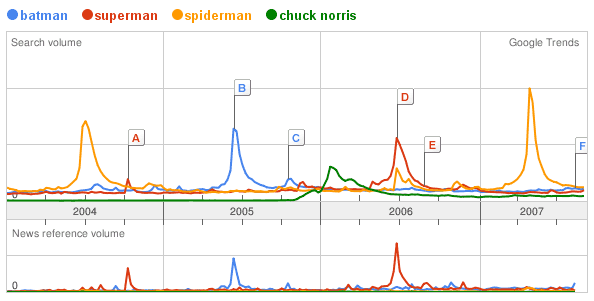 This all looks impressive but it's all a matter of context. Throw in Pokemon and the search traffic seems less impressive. I can't remember any Times Square bill boards for Pokemon, so the franchise is doing pretty good for the amount of money they spend advertising it.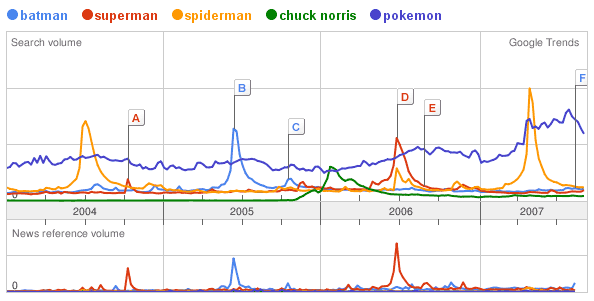 Religion
Christians own search! Although interest in all things Christian has waned since 2003. The muslim cartoon put the religion into #2 spot briefly.

Note: This chart is a little weird as it pools Scientology in there with real religions but I've added it for comparison.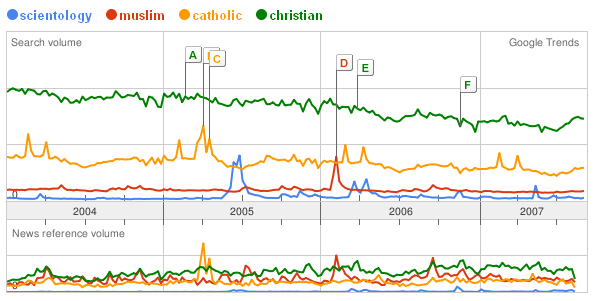 Celebs
Paris and Britney battle it out for top spot on Google. Madonna seems to get good news coverage but only had top spot for a little while in mid 2005. Overall I'd say people are more interested in Britney than Paris.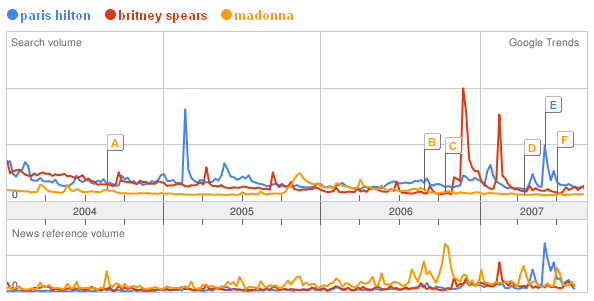 Lets focus on male music stars.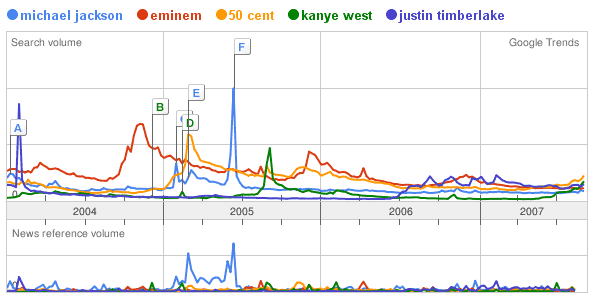 It's neck and neck right now, but 50 cent is leading slightly.

Hoff vs Chuck Norris
Chuck Norris kicked the Hoff's ass. This surprised me. The Hoff never had a chance against Chuck and even with little news support the Chuck Norris facts have trounced all Hoff activity in the past.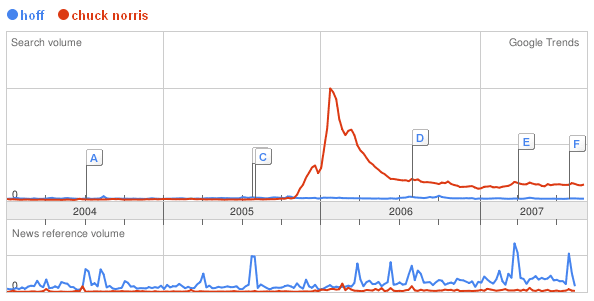 To further put Chucks awesomeness into perspective we see below he almost reached God like status with zero news support. So close! Note if you want to get searched a lot you need a beard and special powers.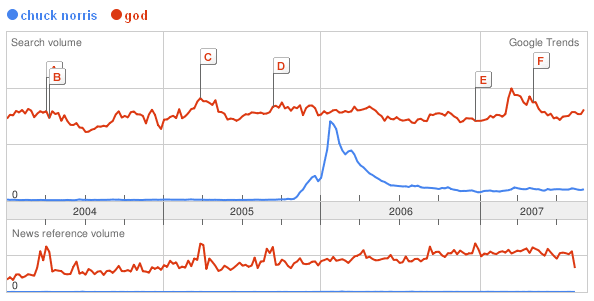 Chuck might not be a god but he was bigger than Jesus for a split second.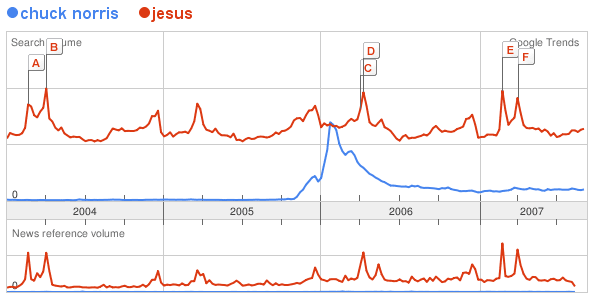 Pirate vs Zombie vs Robot vs Ninja vs Vampire
If you're a movie exec and wondering what to theme your next movie this might help.If you were a smart movie exec you'd cover your bases and release a hybrid film. The safest bet being a Pirate Ninja film defending the earth against a robot invasion.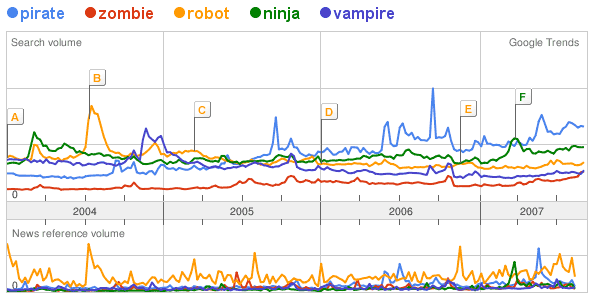 TV
Here's the search data from the popular shows in our office. I added Idol in there for comparison. The Sopranos was a lot lower than I imagined.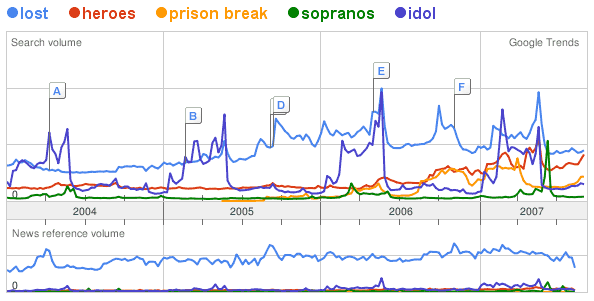 Here's other "talent" shows for comparison.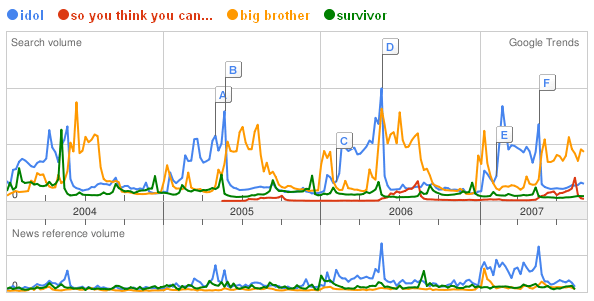 I could go on about this forever. Google said they can give more detailed trends on topics of your choice if you were advertising with them. So if you already spend money why not ask them to put together a report for you.

Google also publish a yearly Zeitgeist yearly also also have a hot trends section of the trends which you can track what's hot right in search for the last few days.

Yahoo! have a similar section called Yahoo! Buzz. I like the commentary which gives you some insight as to why people are searching for certain things. Sadly there isn't a graphing tool which makes seeing trends in results much harder. I do like how Yahoo! has separated the buzz into categories though.

I also found this entry from Micro Persuasion which has some more interesting findings from Google Trends.

Note: Why not search for your brand and see how it's going.