Youtube. Now with stats. Or insights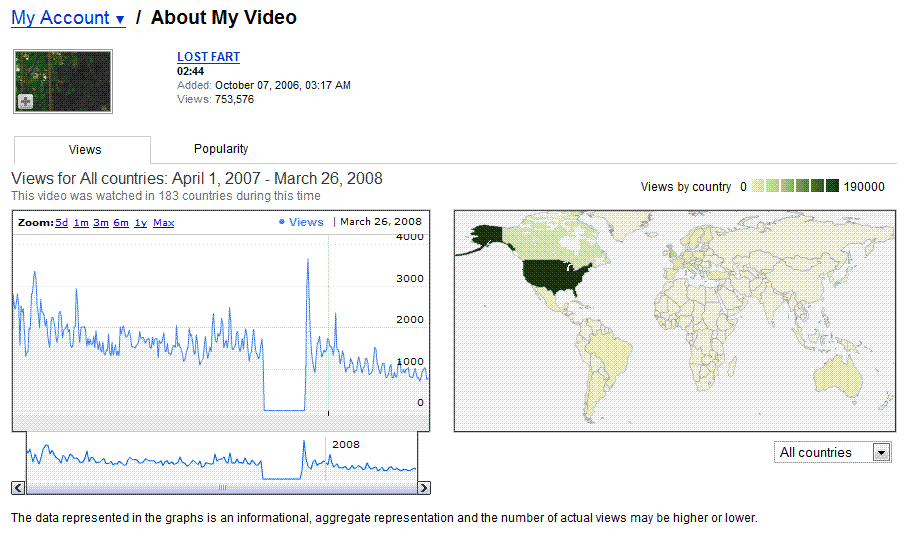 It's funny you ask for features and then you learn about them from other blogs not via official channels.
Youtube have finally added stats to videos. YAY! But don't cancel you're Tube Mogul account just yet as the features are still limited. But you can now drill down per country and region to see how your video is performing. Very important for campaign based videos where your clients product is only sold in one region.
You can see on my "Lost Fart" video stats above the traffic is waning and also the period of time my Youtube account was cancelled.
It took me a while to actually find the stats. You need to go to your account > manage videos > click on "About my video". Why it's hidden so far down the rabbit hole is a question I'd like answered. Compared to Tube Mogul's quick reference to videos, comparing multiple videos and an aggregate of all you videos combined this is very limited.
What Insights (that's what Youtube's calling this feature) does have over Tube Mogul is country break down and also popularity. Popularity will scale your videos from 100 (most popular) to 0.
So a quick scan over this videos stats shows it's done well in Australia. Compared to my fart video which seems to have only made inroads in the USA.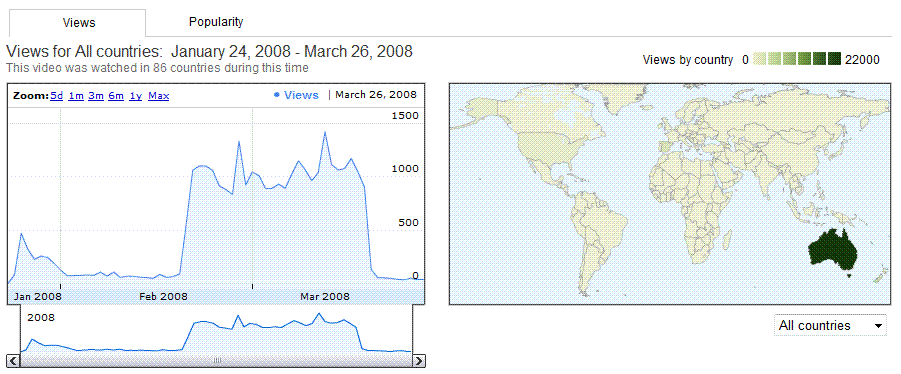 I hope this insights feature gets expanded and also tweaked. Where's the referrer stats? The insights is missing even the features they already have on the video such as ratings, comments both of which could also be graphed over time.
Why didn't they replicate Flickr's stat system which is much simpler and powerful. Every photo has a quick link to stats (including referrer stats) and then you you an overview of your complete account quickly from the main page. Here's my stats below which sadly is dominate by photos of body painted boobs and ciggeratte photos.
So the stats are almost there and these stats are needed for advertisers using Youtube as their main delivery platform for "viral" videos. Although I will say if you shouldn't put all your eggs in the Youtube basket when it's free to post it on any of the other free video sites.