Bannerblog Fan page on Facebook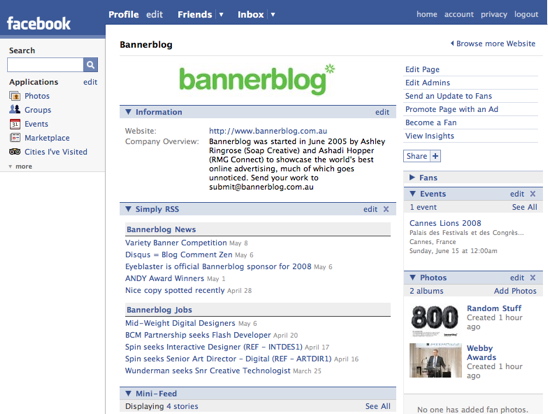 We've revisited our facebook presence, and have opted for a 'Fan' Page rather than a Group (which we'll now close). Fan Pages weren't around when we first got on the FB bandwagon and overall we found updating the group too much of a hassle. With the arrival of Fan Pages, comes application support and therefore closer integration between the website and Facebook page thanks to RSS. As a result, you can now :

See the latest Banners posted.

See the latest News & Jobs headlines.

See a calendar of the upcoming Award Shows.

Post your latest campaign (we'll treat this as we do email submissions)

Share Videos, News, Photos and Create Events.

We'll likely do alot of our Cannes coverage from here as well, so add us today and make sure you don't miss out!