Do the work then the PR
Is it just me or does releasing a press release about your latest endevor online that hasn't even started yet seem like talking up how you're "totally gonna root that person at the xmas party". Ok, let me know after the party and give me the sticky details, just don't waste my time now.
The latest offender is Naked who reports "Intern Gavin Chimes' first day at work at Naked Communications is one he is unlike to forget after being packed off on a 10-day European tour courtesy of holiday firm Contiki." there's even a link to the Youtube channel.
Not even a video expaining the stunt, or a word from Contiki. They had enough time to write a PR and take photos but not enough to actually get the ball rolling on the actual blog. What if I wanted to blog about this amazing new innovation in marketing? Well I'd be blogging "vaporads". I'll have to bookmark it and then check in a week, maybe 10 days? Or wait for the next PR release. By that time I'd be following some other phantom campaign.
I did find the channel honours interesting though.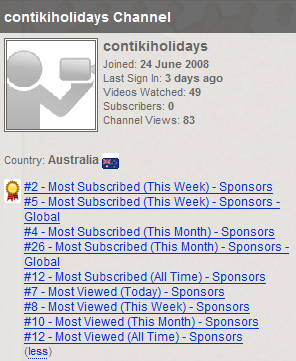 I've been a big supporter of Youtube but the stats below are a bit sad. This is Australian stats. I can imagine other countries fare differently.
If 0 subscribers = #2 then what about the other channels?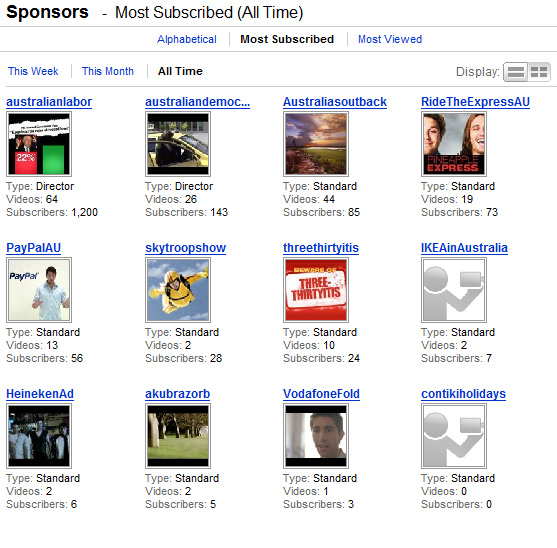 Oh...
It's weird as Sprite Truth Hunters (the best Aussie example of a Youtube channel) doesn't appear in this list?
Here's a channel I had a hand in working on. Whoops!
I don't want to bag Youtube as I love it. I've also been a strong supportor of it to clients, but you'd think they'd be bending over backwards to make their sponsors channels go through the roof and then try and bilk them for cash when they are happy.
P.S. I'm claiming ownership over the term Vaporads. Adding it to my lexicon of claims including unforghetti and poolates.