Viral Marketing Patterns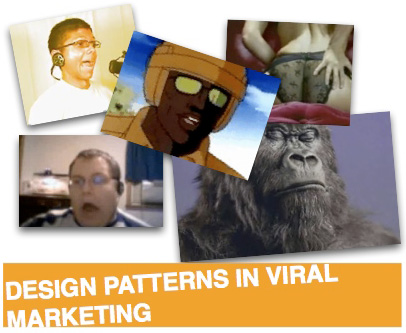 Mike has done a lot of research into viral marketing patterns breaking them down into 21 different segments in this article.
For me he has missed a very obious trend and that's music. Check the top viewed videos on Youtube of all time, pretty much back to the top 100, and it's domicated by music. So if you want to market something tie it in with music.
And two he missed my personal fav Crowded Ads. But aside from those two omissions it's a good read.
Oh and he's missed mashups too. Ok no list will ever be complete or maybe these are covered these with different categories.
Oh and the virals that look like they took (and probably did) take a shit load of time and effort. Usually stop motion of some kind.
Oh and spoofs/parody.
Also don't forget the major element to anything going viral is being first (ie original). It doesnt matter i