Virgin Mobile's What Happens Next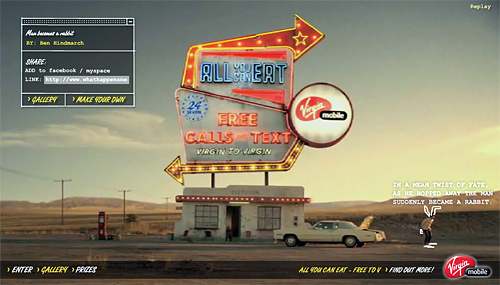 Virgin, thanks to Host have launched a new campaign called What Happens Next. Choose your scene and then direct what happens next. The best entry will get turned into an ad (i think Virgin did this before?) and you win a trip to Cairns. That's northern Qld not Southern France. Oh and 5 grand cash too so that's pretty sweet.
The actual drawing tool is quite nice and the film genre video changes are nice too but the entries themselves so far are quite boring to view. I guess I was on the look out for dick and balls, but I think those wont get past the moderators.
I did enjoy the man turns into rabbit entry but look forward to see the gallery fill out over the next few weeks.