The One Function Website
Umbrella Today is another simple site from Thoughtbot that tells you if you need an umbrella today. You type in your postcode and it tells you if you need an umbrella. You can then schedule to have this news sent to your mobile.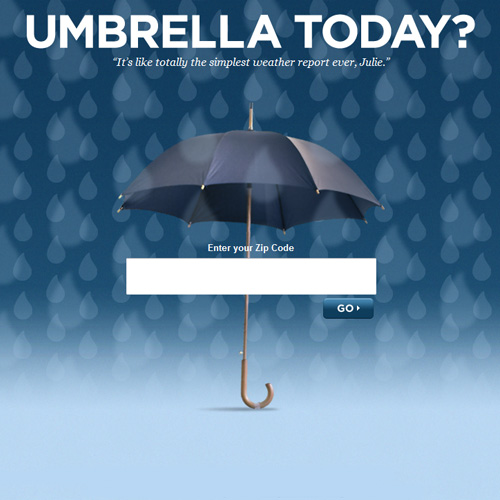 Funny it already has a carbon copy Doineedanumbrella.com (sans mobile functionality) which has a higher search ranking.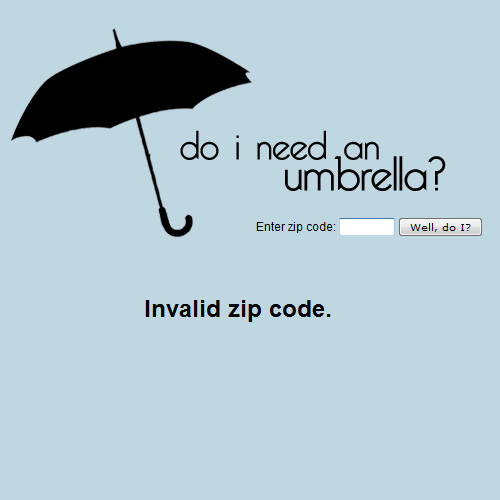 These sites are part of a wave of simple one function sites that have been popping up. Such as
http://downforeveryoneorjustme.com/ : Tell you if a site is down for just you or everyone.
http://thingsididlastnight.com : I won't spoil the punch line for this one.
http://isitbeeroclock.com : Computer says yes
http://www.otherthingsidliketodelay.com I'm not sure this one will catch the world on fire
http://istheinternetawesome.com: The Barbarian Groups contribution to the fun.
I can see more sites like this in the future such as "whatshouldihaveforlunch.com", "whatcolorshirtshouldiwear", "myluckynumberis.com"
Does anyone know of any more simple one function sites?