The #1 Marketing blog in Australia.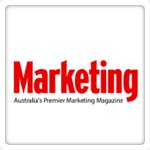 Marketing Magazine (Australia) & Julian Cole of The Population, have put together a list of Australia's Top 100 Marketing Blogs using the same style methodology as the AdAge Power 150.
In the August print edition of Marketing Magazine we we're number 2. However on Julian's website, we're now number 1, outranking industry stalwarts such as B&T magazine (#41) and Campaign Brief (#21).
A great result for us, so thank you to all our readers, contributors, commenters, loiterers and our sponsor Eyeblaster.