State of the Blogosphere 2008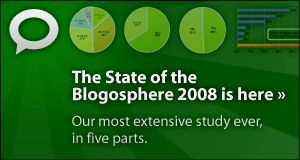 Everything you wanted to know about the Blogosphere (hate that word) and more. Technorati release their State of the Blogosphere 2008 report.
Reading this series of reports will let you fake your way through any conversation on blogging even if you think a Blogroll is something you find at a Yum Cha restaurant. Anyone out there fluffing their way through a digital strategist role at an above the line agency should have hard copies of this too.
The report contains not just sexy graphs (like below) on blogs but also insight as to why we blog and the people who blog.