It's all gone Fu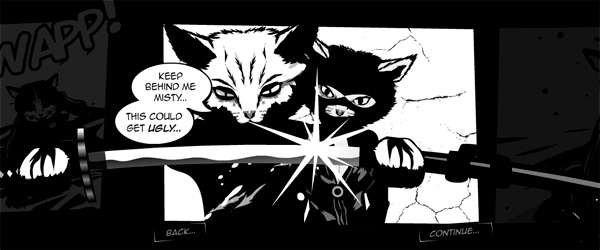 There's been a bit about the Ninja Kittens TVC for Toyota Corolla by Publicis Mojo of late. While both following the core concept, the TV's one thing, but i reckon the online work is better.
Slick fast animation, well crafted with product drivers in place, but not in the way and presented in contect with an option to explore whilst staying within the creative approach. Particularly impressed with the paralax across the episodes (thats been due for a bit, saw a poor example a while back judging the BIMA's - for nokia I think) and unlike a lot of car sites produced locally here in Oz, it's not about the front 3/4 for once.
Like Barina for instance or Fiesta, and particularly the new MF FO and Superawesome GTR


- mmmmm, maybe that last one kind of sells itself. Actually.
Side note: I have a kitten. His name is Fu , incidentally (and that was before the commercial). I'm hoping he'll make an appearance in the next series, in the bamboo scene. He's go the skills, and he's been training (if you join his Flickr group, I'll lobby the director and who knows...)