Microsoft Tag : Move over QR codes..

Microsoft has introduced a mobile tagging system based on new HCCB technology called Microsoft Tag at CES 2008. Microsoft Tag allows consumers to instantly connect to information, be it URLs, phone numbers or short messages by simply snapping the tag with your mobile's camera & the Microsoft Tag reader software. To those familiar with QR Codes, this is nothing new. The key advantage of Microsoft Tag over QRCodes is they have a smaller footprint while storing more information due to the use of colour.
Microsoft has launched the Tag reader application with broad handset / OS support - including the iPhone. You can download the reader application directly to your phone from the mobi site http://gettag.mobi or the App Store if you've got an iPhone.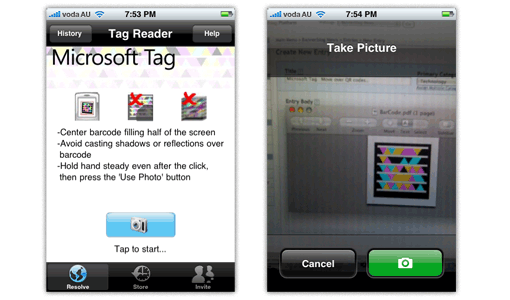 A Bannerblog.com.au Microsoft Tag seen through the lense of the iPhone.
The poor framing and light conditions were no trouble for the reader application

With the launch of Tag, Microsoft is clearly looking to take mobile tagging mainstream where QR Codes have failed to achieve mass acceptance - with the exception of Japan.
In Australia, Telstra launched QRCodes as 'Telstra Codes' with much fanfare during the Beijing Olympics. The 'R U QRious' campaign could be considered a commercial flop as the advertising was Telstra customer centric and excluded those on carriers Optus, Vodafone & Three. This is despite the fact a Telstra Code was a standard QR Code.
A solution tied to one carrier lacks the mass reach critical for it's adoption. Telstra claimed that 500,000 customers had one of the seven compatible handsets required to use QRCode's at launch. A meagre number when you consider Australia has 21.2 million mobile subscribers.
With the advent of Microsoft Tag, it will be interesting to see whether Telstra continues to adopt QR Codes or abandons it in support of Microsoft Tag. As mentioned earlier, QRCodes have limited popularity outside of Japan where they are a regular fixture on billboards, magazines and products. Telstra's last adoption of a Japanese technology was DoCoMo's i-mode service which it canned in July 2007 after three years of poor subscriber numbers.
If carriers Optus/Vodafone/Three were to jointly promote Microsoft Tag as a standard offering, Telstra Code could be quickly buried in favor of a common cross-carrier platform.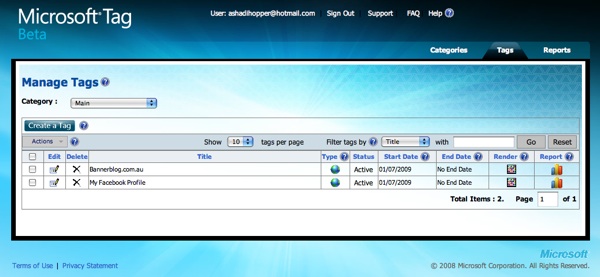 Screenshot of the Microsoft Tag control panel
Microsoft Tag also has a few unique features over QRCodes. Microsoft Tags can be set to expire, which is valuable to marketers wanting to use them in a promotional campaign. The reader application also appears to be location aware / GPS enabled. This would be particularly beneficial if you were looking for the nearest retailer having just snapped a Tag on an ad. But most promising is the presence of an analytic engine that captures actions associated with your tags for reporting purposes.
For more information on Microsoft Tag, visit the website