Queensland Tourism Offers The Best Job in the World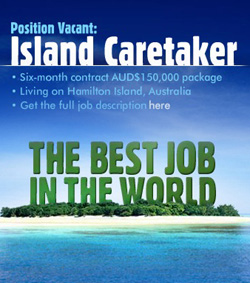 It's not often you see a tourism campaign that creates such an amount of buzz. All for the right reasons.
Tourism Queensland's latest promotion "The Best Job In the World" is offering a 6 month blogging/caretaker job for A$150k salary has been picked up the world over. Here on the BBC
Owning the term "best job in the world" on Google is quite a feat in itself. What I love about the campaign is it creates awareness of Queensland and it's fantastic weather, it a promotion with an amazing prize that you want to share and once it's all over you end up with 6 months worth of blog entries from an eager winner.
Here's the official press release
"They will also have access to and report on visits to all the Great Barrier Reef islands that run from Cairns to Bundaberg.
"How would it be if you were suffering the current harsh Winter in New York, Paris and London to be able to escape and work somewhere as amazing as the Great Barrier Reef."
Applications are open until February 22. Eleven shortlisted candidates will be flown to Hamilton Island in early May for the final selection process and the six month contract will commence on July 1.
The campaign will run in the Australian domestic market and 10 key international markets, making it Tourism Queensland's first truly global campaign."
Check the buzz on Twitter and other microblogs here
The only thing I didn't like was the fake job applicant videos. It wasn't needed. Spotted on Mumbrella
Great effort on the PR front and well done to the client for going with this. I look forward to seeing how this pans out.
The site is slow to respond which makes me feel like it's getting hammered right now. Which is both good and bad. Let's hope they get this fixed soon.
Update: They are moving the site to a new server but even the news has picked up that the site has crashed.
I was told over 1,000,000 visitors to the site in a day.
Update: The campaign is by CumminsNitro Brisbane.
Who I think wished their site would crash ;)