Trendwatching's 2009 Trend Report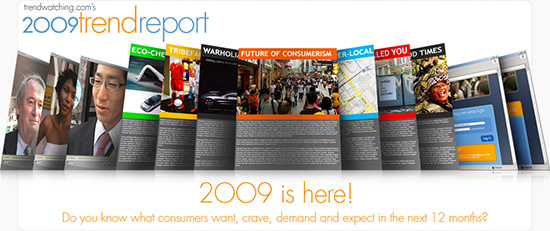 I throughly enjoyed Trendwatching's 2008 report and their 2009 report is here. I haven't had time to read mine but that's what weekends are for.
Not only that but throughout the year they continued to update the report with new sections and new videos. It's a pretty slick operation. The report is made to make it easy to slip their findings into your own presentations. There is the usual vox pop videos with consumers too. These I always find interesting.
If you only buy one trend report this year make it this one :) Considering the minimal cost it's worth more than attending a local conference for one day. Minus the free lunch.