Brands go Social
Two sites launched last week for two brands that could not be more opposite. XXXX and Air NZ both releached sites that had previously been promotional focused and both had been full flash. Now they both go the HTML rouite and more importantly both have refocussed to become more "social" with content shared from Youtube and Flickr and AirNZ touting a forum.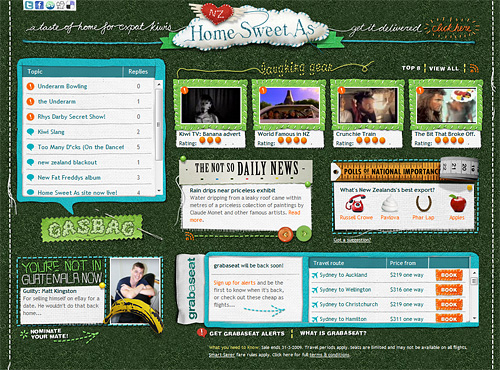 Home Sweet As is the 3rd reinvention of the site. The original and Show Us Your Sweet spot both winning many awards and driving up a member database with interesting promotions. This version is more focussed on content or the social aspects with a forum for Expats.
Here's what Bob from HOST had to say;
In HSA #1 that was messages from home. In #2 (Sweet spot) it was about places/locations back home. Now it's more about content.

The first two promos were about building an audience through promotions (really high opt-in rates). Now we have an audience, we need to create a 'channel' to speak to them regularly. There are some classic vids on there which should resonate with kiwis.

A key bit of content (and only selly bit) is 'grabaseat' which has been live in NZ for a while now and is quite well known and popular. They're basically super cheap fares from unsold inventory. This'll be live on the site every few weeks and although anyone can get them ex-pats sorta get first dibs if they're part of home sweet as.
On the opposite side we have XXXX. Rebuilt by Holler Sydney the site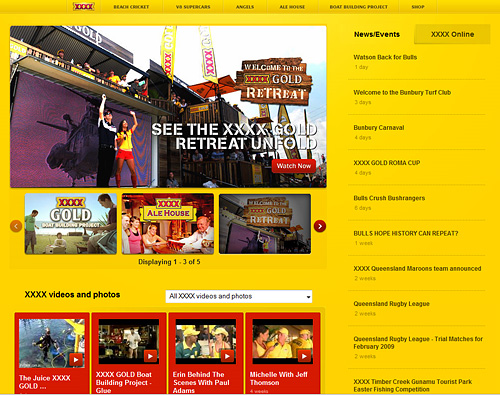 For those that don't know XXXX would be one of the lower end beers in Australia. However the work they are doing online and offline you'd hardly know this.
Between the Beach Cricket series, the boat making comp, the XXXX angels, and their V8 promotions you'd be hard pressed to say they aren't promoting theur brand than any other beer out there.
The Youtube Channel is well stocked, the tumblr blog is regularly updated, the Flickr account is a little barren and the Facebook fan page isn't rocking yet but it's much better than the other beer brands are doing online in Australia.
I wonder how many other brands will ditch their full flash site and start focussing more on content and the social aspects. They both have pros and cons, especially when your brand doesnt produce any content or there is no real plan to stoke the fires of the community and engage them.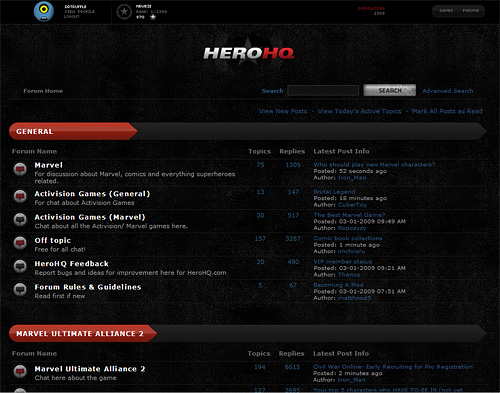 I personally am working on sites for two major video game releases for Activision, Marvel Ultimate Alliance 2 and X-Men Origins: Wolverine Official Video Game. While it was tempting to create a big flash bang flash website the focus was definitely on the community and the fans. And compared to an airline or a brand of beer a video game has a much stronger and more vocal fan base. Which is seen by the 30,000 posts in the first month on this forum.
Activision are also looking beyond the single promotion for a game and looking at it as long term solution. HeroHQ is the official forum for the two releases and many more to come. So rather than setting up a promotion site for a game which dies 2 months after the release HeroHQ will allow the sites to snowball for each new release.
While I don't think we should get rid of the full flash site I think brands need to start thinking longer term about their marketing initiatives online. And it's not all about going social it's about fwd thinking 1-2 years in advance and maximizing your spend for longevity rather than a tiny spike that requires you to spend again.
I saw Mark Pollard talk about viral marketing as "Crack Marketing". You get a quick hit, it feels good but then a month later you need to get that buzz again. You end up in this vicious cycle of spending for short spikes of attention that in the end leaves you at ground level each time.
So get off the crack and start doing some low GI thinking with online marketing.