Lovells Virtual Pub Tour Thingy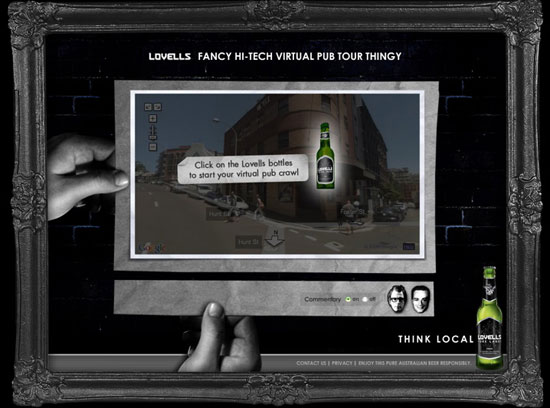 In the name of responsible drinking, Lovells Lager and Whybin\TBWA\TEQUILA\Sydney have created the worlds first HANGOVER FREE PUB CRAWL! The Lovells virtual pub-tour takes you on a journey through the streets of Australia, showcasing the finest establishments to enjoy a refreshing Lovells Lager.
In a daring mash-up with Google's infamous Streetview technology, we've inserted or rather geo-tagged, giant 3D bottles of Lovells into Streetview to map the locations. All you need to do is click on the giant bottles to start the tour. Why not join Matt Lovell and Ben from The Devoted Few and go on an intimate pub-tour today.
Check it out @ http://www.lovellslager.com/pubtour