Lame Awards 09 - Della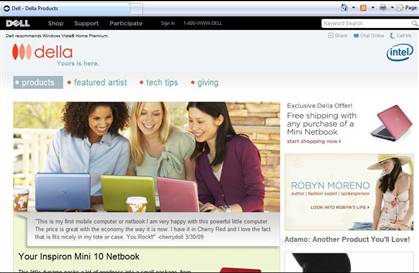 Remember when we wrote about the out-dated sexism of the mock Madison Cookware campaign? Well it seems like Dell failed to recognize the parody. They've just launched Della - a microsite targeted specifically to sell computers to women. Or at least, women from the 50s.
From a CNN report:
Sounds silly, just as silly as Della is. Netbooks and laptops are presented as fashion statements, and the site's "tech tips" includes a feature, "Seven Unexpected Ways a Netbook Can Change Your Life," which starts out by saying, "Once you get beyond how cute they are, you'll find that netbooks can do a lot more than check your e-mail."
Contrived and condescending much? Seems like some marketing research firms are the ones who are decades behind.