Build Your Own 2010 Mustang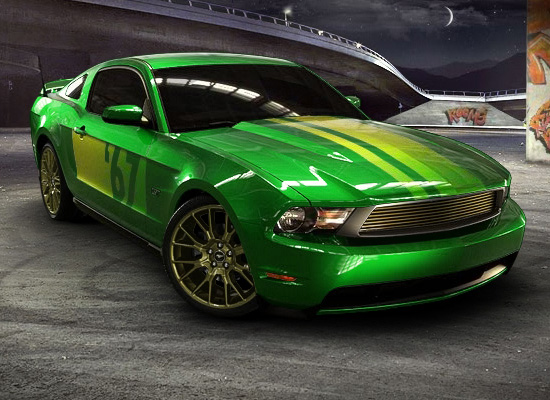 There is no greater feeling that seeing your work embraced by the audience. That's what Firstborn are seeing with the release of their "Community Customizer" for the new 2010 Ford Mustang.
It's only been a couple of days and the forums are already posting up their images. While it is much easier when working on an established brand with these forums and fan bases in place you have the added pressure of them being obsessed and ready to complain if it doesn't live up to their standards. Check out the conversation on these forums and fans sites here, here and here. This is only after 2 days. Much more conversation about this than the "branded content" videos featured on the homepage.
The site features a gallery in which you can rate and also get details on each car. I like the fact you can get details on each accessory even if not Ford owned.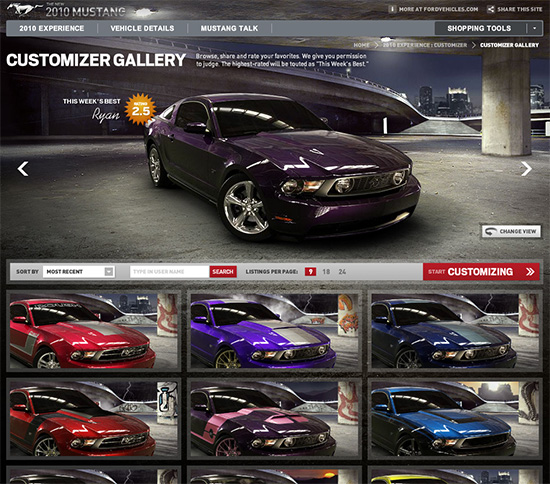 The "community mode" of the site is interesting. I like the idea of multiple users deciding on a car but for me I like to wade through the options and pick slowly. I don't actually like the idea of someone changing my choice. If I want a British Racing green car then that's what I want. I don't car everyone else wants red. The way it's handled here is quite clever. Each selection is locked out for 30 seconds.
Another "build a product" site recently launched was this one by Big Spaceship for Lands' End called Packland. A much simpler interface but aimed at kids and with a level of polish that makes you want to cry. Check the activity on their Facebook page after this tool launched.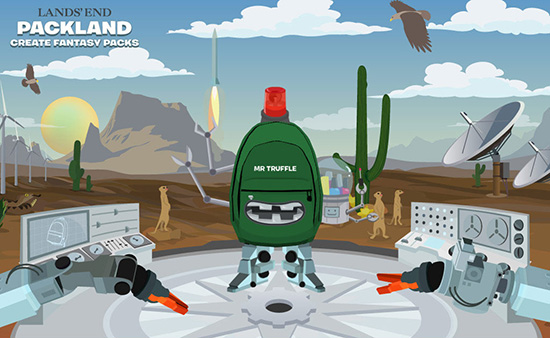 These types of tools or games are very popular. I know first hand as the Create Your Own Toy tool I worked on a couple of years ago saw over 1,000,000 toys get created in less than 6 months. We also made a design your own car tool back in 2005 and it still receives over 30,000 uniques a month over 4 years later. Sadly we didn't make our car tool as easily shareable back then.
These are even separate to the recent uptake in "avatar" creation tools which I'll do a round up of next week.
The community activity around these projects reminded me that you need to make the creations shareable. The image export is a huge must as it allows people to put it anywhere. Flickr, Facebook, forums or just keep and print. I've seen many of these "build your creations" that have only given a unique URL to share. Even worse is when it doesn't even have that.
You don't need to over engineer the sharing side of things. A simple image export in a variety of sizes is all most people need. Don't worry about send to friend forms as people don't use them. They already have their IM and email programs open or they are logged onto a variety of sites that your send to friend form wont send to. Just give them their creation and let them spread the word on their own.
Also don't feel you have to bribe people with the offer of prizes to use your tool. If you make something useful and fun they will use it. The toy creator we made had no offer to win or reason to play. It was just a tool to let people be creative. I think offering a prize would have just attracted the wrong type of people and the results were good enough already.
It's user generated content but a much lower barrier for entry. You can also build the tool to remove the need for moderation and you can use the content generated to create more content with "editors picks" and other initiatives.
If you have seen any other examples of "build my ?" tools please comment below.