Don Q's Lady Data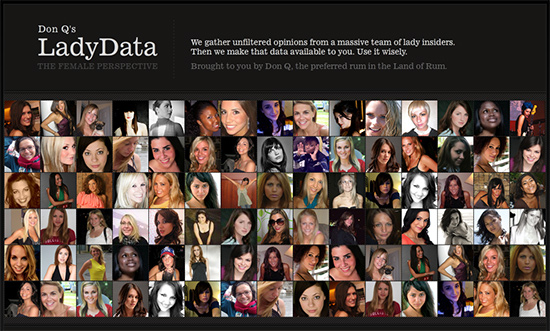 Don Q, a rum brand, has surveyed a variety of women (or massive team of lady insiders as they say) on topics relating to the mating game. Want to know what women think about your comic book collection, you impulse to pop the collars on two polo shirts at once? Then check the Lady Data.
I really like this, it feels like something Lynx (Axe) should have done. The design is tight, if a little clinical and the Don Q product is subtly mentioned in a question and on the profiles with no hard sell. The products are behind an age gate click. Which is weird as I can view the data and see the brand before I'm asked for my age?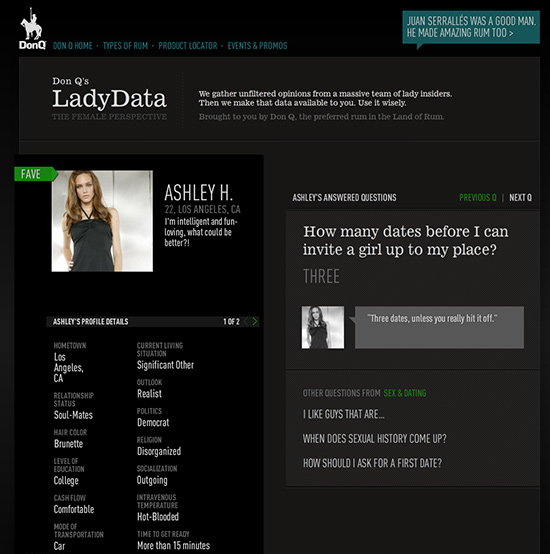 You can drill down to view individual profiles of the ladies and also filter the results for each answer based on criteria such as shoe preference (Chucks are an option but you limit yourself to just 4), single status, age, location. The different ways to filter the data is impressive and fun. Good to see each question & even filtering option has a deep link making it easy to send around.
If only every woman was required to answer these questions. It would save a lot of time and heartache.
I found most of the questions interesting and useful. Most were things I would want to know if playing the field.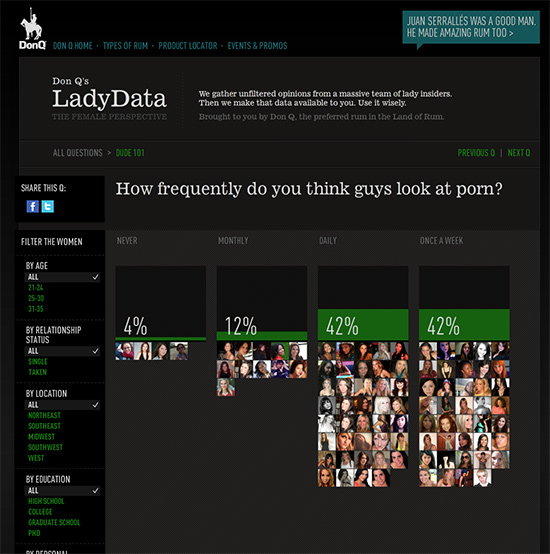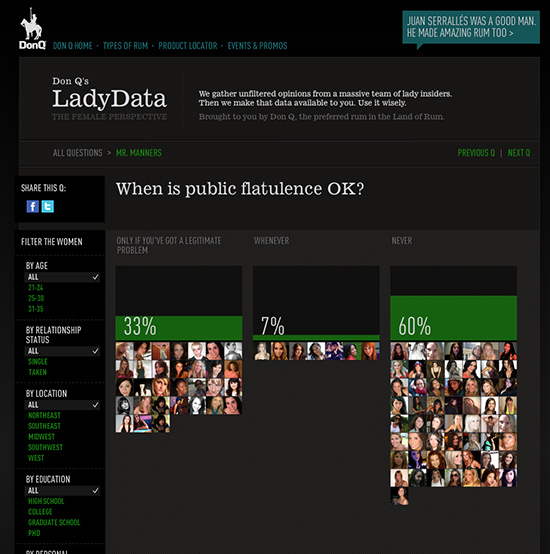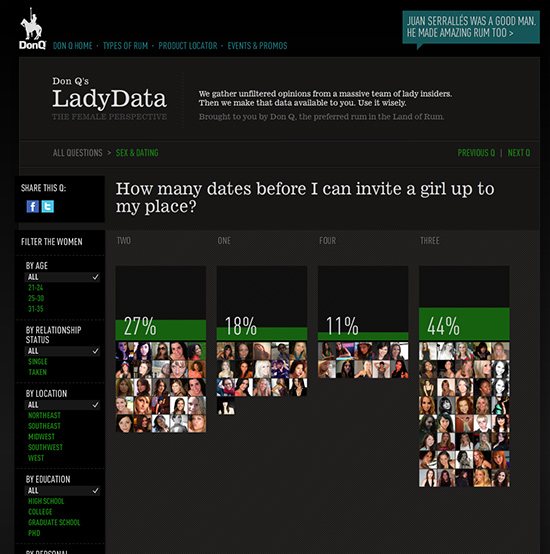 The only small problem being you can't filter by multiple questions. So if I wanted to see how many ladies who will shag on the first date, is cool with me farting in public and doesn't care that I wear the same underwear for a week then I'm out of luck. I'll have to keep my own list and cross reference myself. Maybe I'm expecting too much for what is just a nice simple piece of marketing?
There's a Don Q Facebook fan page and a Twitter account for both Lady Data and Don Q. Interesting they split the Twitter accounts up, which seems like a short term idea and splits the audience.
I do like how they are pushing a few findings from the Twitter feed such as "The most popular profile on the site is","the most popular question is about porn" in addition to aggregating other interesting articles on the web related to the mating game.
Lady Data also screams for an iPhone app but I think the cost vs gain on this right now would not be there.
I'd also wanted to see all the data at once in poster form or a zeitgeist round up of the top 10 things I need to know as a guy looking to pick up.
And while I'm just adding random things with no regard to budget, I feel that a Twitter feed is great but why not pull the feed into the site as a news section? For those not on Twitter (the majority now) it becomes a news feed to keep the site fresh.
Lady Data is by Undercurrent (Josh Spears' gig) and Odopod (who always do good work)
Note to guys: Call her back in 1 day.
What do you think about this direction for Don Q and the site itself? Positioning itself with the mating game sets it apart from other rum brands on the market and with dataviz being such a hot topic right now I think it'll hit the mark well.