EA's Tiger Woods Online is Just the Begining
Since working with gaming brands the last few years and intensely the last year with Activision, I have stepped back into my old habit of being a super big game nerd. The good thing is that the difference between the mid 90's and now is that gaming is the biggest entertainment sector in the world and broken out of boys in their bedroom and arcades to become mainstream for everyone. Factor in that every console now has Twitter and Facebook integration you'll see that gaming is really moving forward with the times.

Nintendo was the first to really see the future, outside of the hardcore gamers, and look what it did for them. They are the envy of Sony and Microsoft. The only other company that garners so much jealousy is Activision Blizzard with their money making machine World of Warcraft.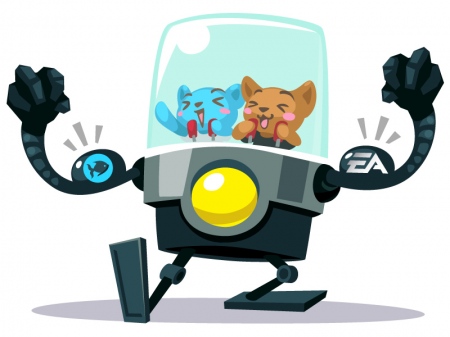 The big news last year was when EA came out and said they were "Going social". Initially I thought that meant ramping up social network integration into their console games or utilising them to promote their games. Or partnring with companies to promote their console games like this Dante's Inferno FBRPG.
But it looks like EA were not messing about after announcing they are buying Playfish games for $300-$400 million. Playfish are the #2 Facebook games developer after Zynga. Although I read Zynga wanted $1Billion so that's probably why EA bought the #2 company and not Zynga who are #1.
If you don't know about Playfish or Zyanga then you should really check them out. Zyanga run the #1 facebook app Farmville. You might of heard of that one. If they rock your boat also check out Nexon the Korean company doing great things also. All these companies are backed by tens of millions of VC so we're talking big business here. At 2008 article here shows $1.7Billion dollars invested into online games.
EA already owns Pogo and in 2005 bought Jamdat to make their mobile department so EA have their fingers in a lot of pies.
I then assumed this would be the extent of the "social move". EA integrates some of their properties into Playfish style games and they progress slowly from there.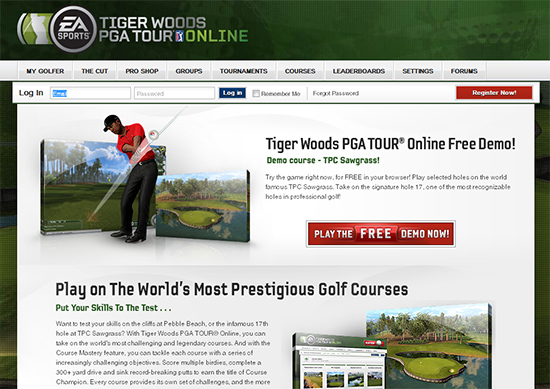 But last week EA launched the public beta of their World of Warcraft for golfers. Tiger Woods online. Terrible timing and I'm guessing it would have been announced earlier (it's been in beta since August last year) had it not been for all the Tiger press. Here's the official EA blog post about the game launch and the Tiger scandal.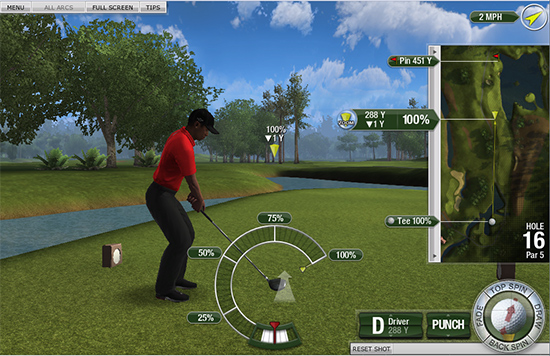 Why get consumers to pay $60 USD for the game (and hope they upgrade next year) when you can get people to pay $10 a month (or more)? You'll also hit the golfers who probably can't tell the difference between a PS3 and a Z3, ie the business professional.
Tiger Woods Online uses Unity3D which was part of our 2010 predictions. The effect blows anything Flash can offer in the way of 3D.
The people at World Tour Golf must be shitting their pants right now. Not online is Tiger Woods Online a better game (full 3D, customizable everything) but it has all the cred and support that EA can provide. WTG might be more realistic but for the majority of people they want a fun game not a realistic game. All EA have to do is offer a tweak to the settings to then appeal to both types of players.
This asks the question if other publishers will move into the subscription model for some of their popular franchises. MMO's are the big hit but are time consuming to create and manage and there already seems to be over saturation. If I had to throw a prediction out there it would be Call of Duty Online / MMO. The franchise is on the biggest in the world and there have been rumours already about a MMO or subscription model.
Not stopping there EA has pushed aggressively into iPhone game development. I saw them talk at the GDC in San Fran earlier in 2009 and they announced pretty much every franchise they had for the iPhone. No other publisher has pushed into iPhone more than EA.
EA have also created a "Micro Studio" called 8lb Gorilla which debuted a zombie game Zombies and Me last year. Here 2D Boy (a successful indie micro studio) talk about the news.
Another EA Micro Studio called EA2D which ficusses on promotional flash games for their console titles. Like their first title Dragon Age Journeys. This is a studio made up of freelancers from around the world rather than a traditional studio.
Activision and Ubisoft are the other two big publishers that we should keep an eye on to see how they embrace social games over the next few years. Ubisoft have their Uplay system but this is just unlocking rewards in their existing games.
Venturebeat has a great article on EA's social gaming plans with comments from top level execs.
The last two years have been an interesting time for the gaming community and 2010 won't be any different. For those that aren't interested in games I suggest you at least keep an eye on the business side developments as there is a lot to be learnt from the success and failure in that industry.
Disclaimer: In the past 2 years I have worked, while at Soap Creative, for Activision and Ubisoft and was also a major Sega fan boy in the 90s.