Goat with a Frog On Its Head Ads
If you ventured into Sydney city yesterday you would have noticed almost every second adshell has an unbranded poster of a goat with a frog on its head. I debated with my friends if it was for Telstra (colors look right) or Optus (use of animals) or some other random brand or just part of Sydney Festival (maybe Sydney is sponsoring art in ad shells instead of just ads). We also debated the stupidity of buying so much media with no brand.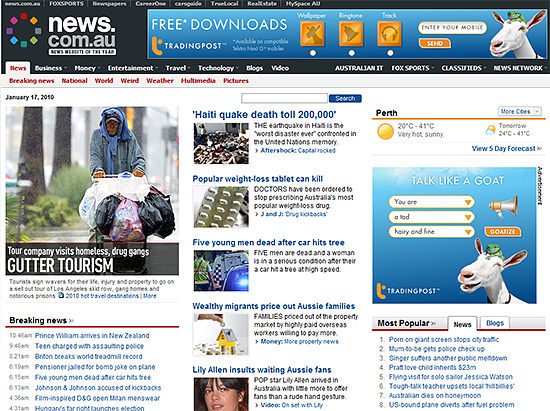 Imagine my surprise when I visited
news.com.au
today to see the the ad again with the brand. it was
Trading Post
(owned by Telstra)
Here's one ad where you can create a sentence in goat talk! Why? Who knows but you can get it sent to your mobile and show of to your friends how cool you are.
I'm guessing TV media starts today (it did see
Mumbrella
for more info) with the reason I would want to "talk like a goat". The website
Goatizer
might be ready soon too. As the T&Cs link goes there but nothing else is visible.
This is a total waste of outdoor media dollars. I initially thought it was all about building word of mouth. ie People start asking "WTF is with the goat and frog ads" and the brand is revealed a week later. They would have made it interesting to buy the search term "goat with a frog on its head" and lead them to a similar mysterious website to capture those people interested enough to search for it. But sadly the mystery is now spoilt the next day by online.
Or is this a new strategy devised by the geniuses at Trading Post's agency? Run branded TV and online and offline unbranded. So you subtly remember the brand.