Australia/NZ Digital Agency Index: Campaign Brief and Bannerblog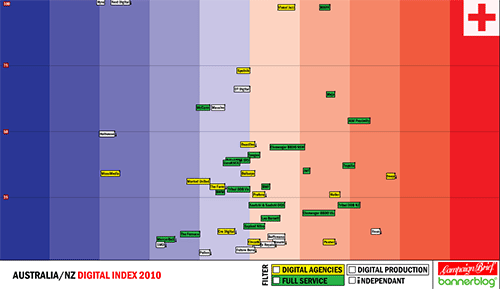 Australia & NZ Digital Agency Index
The Official Hot + Cold Agency list for Digital Agencies in Australia & NZ
Presented by
Campaign Brief
and
Bannerblog
.
Well the first Digital Hot+Cold is over and no one can say it wasn't a democratic process. Agency inclusion, judging criteria, the jury and even the way it will be displayed was shaped over many (read: MANY!) emails between the 20+ agencies involved in Creative Social.

Update Feb 18: We've made a tweak to the list and we now present the Digital Hot List. Showcasing only the hottest digital agencies in Australia.

Three agencies who didn't enter are also in this list. Sapient Nitro, Bullseye and Tribal DDB Sydney. If you are from these agencies and would like to be removed contact us.

It's surprising there has never been a wide spread audit of the agencies doing digital in Australia. This list will educate, anger, surprise and hopefully generate friendly rivalry and discussion between agencies.

The agencies were judged across 3 criteria;
Awards: 10% (self explanatory)
Name: 5% (Does the agency look after its own brand) and
Work 85% (Based on purely the creative).
The criteria for "Technical" will be added next round to allow the chart to be viewed by creativity and technical separately.
Size was determined by number of full time staff.
It was important for the jury to compare apples to apples, so all agencies are separated into 3 subgroups, Full Service, Digital Agency and Digital Production, to reflect the nature of the digital side. We also added the Indie marker to show who is independently owned.

There is little doubt this list will cause debate but that will only prove how important the list is. It is the most detailed analysis of the landscape of digital creativity in Australia & NZ today. We hope to see more agencies submit entries in the next round especially those from QLD, SA and WA oh and NZ.

Note: The following agencies asked not to be included: Amnesia, HOST, Webqem, Deepend, The White Agency. If you are wondering where they are that's your answer.

Findings:
Of the 50+ agencies listed here 34 entered. As this is the first year and less established than the Campaign Brief agency rankings we feel this is a good result.
Full Service agencies have fought back over the past year to command a large stack in the rankings.
Very few agencies have >50 staff with even less >75.
Visual Jazz is the largest "Digital Agency" at 98 people.
MARK is the largest full service with 98 people in their digital department.
No one is super hot! The last 2 hot bars are still empty.
This digital list looks the opposite of the ATL agency list.
Youngest Agency is Future Buro.
Smallest is Droga5 at 3 people.

Missing Agencies:
We made every effort to ensure we got this first round of the list right but we have missed a few agencies.

The following agencies have been noted as missing;
Ogilvy
Areeba
Lemonade
Citrus
Lowe Rivet
Three Drunk Monkeys
@www
Freestyle Media
Igloo
OneDigital
We'll be looking at doing another induction round in <3 months. This will cover any mistakes and also allow the abstaining agencies to put forward their entries. We'll also attempt to introduce the "technical" aspect into the rankings to allow agencies to be ranked via creative or technical.


The Breakdown
Here is a breakdown of the agencies and the scores as of Feb 2010.


The Jury
The 8 judges were picked from a hat from a pool of 22 and come from both small digital agencies and large multi nationals.

| | |
| --- | --- |
| | Matt Stern: CD Profero |
| | Damian Royce: CD CLEMENGER BBDO Melbourne |
| | Paul Jeffress: Group Creative Head: The White Agency |
| | Tim Buesing: CD Holler |
| | Lyndon Hale: ECD: Tongue |
| | Mike Crebar: CD Pusher |
| | Joel Thomson: CD Digital Publicis Mojo |
| | Kevin Ferry: CD Bullseye |
Some quotes from the judges below

Joel Thomson, the Creative Director of Digital at Publicis Mojo, said
"I'm certain it's exactly what clients are searching for; some sound direction in choosing the right agencies to partner with. We wanted to see work that had more relevance in the real world, than the award world alone; the hot agencies were hot for the right reasons."

Tim Buesing CD of Holler said
"It was really important to focus on 2009 and not be influenced by how cold or hot you thought some agencies were in 2008. Some of the traditionally "hot" places have definitely cooled off a bit."

Kevin Ferry CD Bullseye said
"The playground has now become much more competitive from the bigger shops and more specialist boutiques gaining a foothold in the online space. Interesting to see how it will shape up in the coming months."

Damian Royce CD of Clemenger BBDO said
"With the line between agency and digital agency well and truly blurred, it's great to see who was doing the best (and most awarded) digital work in 2009. Some of the usual suspects are up there, but more interestingly we can see a few agencies that aren't widely known for producing great digital ideas sitting at the warmer end of the index. Of course, that could all change again next near."
Please comment below on your thoughts for this index.

This process is evolving so don't expect to see the criteria/structure stay the same.

If you would like to be included in the next round please email us at submit [@] bannerblog[]com[]au